No matter what industry you're in, finding solutions to improve your operation has never been more important. Our new, expertly designed compressed air and vacuum packages will cut unnecessary installation and start-up costs, reduce project timelines and provide consistent reliability.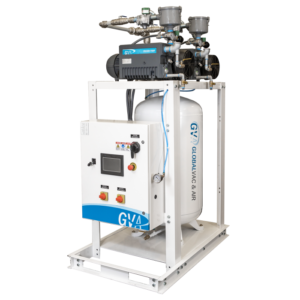 Designed With Your Space in Mind
Our engineered solutions are built with your space and requirements in mind. We offer a variety of standard  vacuum packages equipped with everything you needed to form a complete system. 
If one of our standard packages doesn't work for your facility's layout, our experts will work with you to custom design your engineered solutions layout to better optimize the space within your facility.
Our quiet, low vibration compressed air and vacuum systems are NFPA 99 compliant and built with proven, components that will increase the longevity of your equipment life. Each expertly designed package is carefully assembled to ensure you're receiving a quality system that you can trust.
Quick and Easy Installation
Vacuum packages are designed with plug-in-and-use capabilities. This allows for quick installation and startup helping you avoid unnecessary downtime and installation costs. 
Benefits of quick installation:
Higher Reliability
Decreased Downtime 
Increased Efficiency
Operational Benefits
Increased ROI
Work With Trusted Industry Experts​
When building a compressed air or vacuum system, it's important to work with trusted industry partners. With GlobalVac & Air you can expect expertly designed systems from one source built by our team of experts.